CAN WATER AND RAIL SYSTEM DELIVER LAGOS TRAFFIC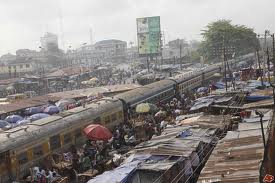 Lagos is the smallest in area of Nigeria's states, and is arguably the most economically important state of the country, containing Lagos, the nation's largest urban area. The actual population total is around 17.5 million, compared to a much higher figure claimed by the Lagos State Government. The population is inversely proportional to the area of the state which logically means the density of human beings per unit area is not equally distributed and brings about the dense and heaviness in human and vehicular movement…Hence, high influx and too many movements at the same. Lagos is improving and the roads are getting better with recent statistics, we can see that traffic caused by bad roads have reduced drastically and what causes the major heavy traffic these days are either "too many vehicles"," accidents" or "road rehabilitation".
Despite the improvement of road networks, it still has not served the populace so the idea of water and rail transport comes to mind, though the rail system has been in existence since pre-independence era but maintenance has made it an obsolete system that its hardly trusted to be a means of transportation in the city, likewise water transport system that will be a big relief for intra-city commuters.A typical example is the from Ikorodu to Lagos island, a system is already in place but it's not substantial to say it serves the major populace who would like to use it on a daily basis to ease the stress of sitting in the heavy traffic for endless moments. There is a waterway that connects Ajao-estate all the way to Festac, and can de-congest the heavy traffic along that route but it has not been utilized properly.
Another scheme that was proposed was the introduction of cable cars for mass transportation to replace okada but nothing has been said about it since the proposed move and the ban on okada on highway and major routes in Lagos. These a fore-mentioned system of transportation can adequately de-congest the road transport which is already a heart-ache for motorists and commuters in Lagos and we urge the government to take into consideration these means to ease the hardship on Lagos roads and make the rail transport especially improved to meet up with the needs of the common citizens that strive through the hardship of getting to their destinations daily.