PRESS RELEASE : #KEKECRAZE PHOTO CONTEST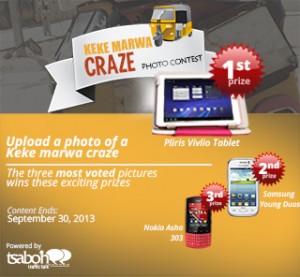 Welcome to the second edition of our Photo Contest. Last month's "Danfo Nuisance" photo contest saw Stanley Uzama proudly walk home with a Nokia Lumia 520. It was huge fun and the creativity in the pictures were immense.
This month we are doing another photo contest titled "Keke Craze". All you need to do this time, again, is to bring our your cameras, and capture any moment of Keke Marwa craze on Lagos roads. This contest is similar to the "Danfo Nuisance" photo contest only in rules and regulations but your contents must be original pictures of Keke Marwa, taken personally.
Who will win the grand prize by Pliris Mobile Vivlio Android Tablet in this month's Photo Contest.
To enter the competition is easy; you upload a picture of Danfo taken by you and upload it to Facebook, Twitter, Instagram or Tsaboin traffic talk. You describe the picture and add your Tsaboin ID, then you get your people to vote for your picture; the more votes you can get, the nearer you get to winning. We believe in the power of the images to tell stories that can't be told in any other way.
It's free to enter the contest, and while we appreciate the honed prowess of skilled photography, we also enjoy the work of amateur photos; it should be enough to get people to vote for your picture. You can enter one, or multiple images, each image is judged as an individual portrait. The picture has to be original and yours, and if you don't have your own picture, check in to vote for others.
Grab your mobile phones and digital cameras and show us your must-see moments of keke Marwa in Lagos. Start entering, sharing and voting at www.tsaboin.com/photocontest